Career Paths & Benefits
More Than a Job
Being a professional carpenter is one of the most rewarding and in-demand careers you can choose. You'll get to work on many different types of projects, such as bridges, commercial buildings, retail centers, medical facilities, schools, universities, sport arenas, power generation, and everything in between. Your work will shape the world around you, improve the lives of others, and leave behind a legacy that you can be proud of. While you're working hard to help our communities grow, you can rest assured that you'll always have access to the resources you need to provide for yourself and your family long into the future.
Career Path
Completing the apprenticeship program at Carpenters Training Institute is just the beginning. From there, you'll decide which path your career will take. As a journeyworker, you'll have access to free continuing education courses at Carpenters Training Institute to help develop your craft or train for new roles within the industry.
Program Costs
Apprenticeships at Carpenters Training Institute offer a completely different approach to education than colleges and trade schools. You won't pay for anything beyond a few basic tools, durable clothes, and transportation to our training facilities. You'll learn from the best instructors in the trade.
Earn a Degree
We encourage every carpenter to continue their education, and getting your degree will provide new opportunities as your career grows. Completing the apprentice training program will fulfill a large portion of the credit requirements for a two-year associate degree at several colleges and trade schools throughout the Midwest.
Healthcare & Benefits
We've got your back. You'll start receiving health and pension benefits on day one of your apprenticeship. You'll have access to healthcare benefits after qualifying hours, and you'll start contributing to the pension fund that provides financial stability for carpenters after retirement.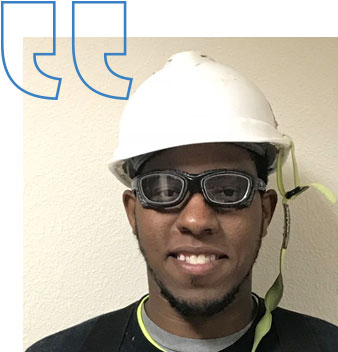 I enjoy working with my hands and being physical. Being able to accomplish that while having the privilege of building up my hometown is a very rewarding life journey.
– Daniel Finner, Sr., 2nd Year Carpenter apprentice