Program Costs
There's no cost to become an apprentice at Carpenters Training Institute. All you need to provide are a strong work ethic, positive attitude, and desire to learn. We'll provide a state-of-the-art training facility and courses taught by instructors multiple years of experience practicing their craft. Compare that to the average college or trade school where a single course will cost around $1,500, provide little to no hands-on training, and won't pay you for your time.
How Is Carpenters Training Institute Funded?
The cost of operating our facilities, providing tools and materials, and paying the wages of instructors is covered through hourly contractor contributions. These contributions represent a small fraction of each union member's earnings, but they're vital for maintaining a reliable apprenticeship program and a highly-skilled workforce.
An Education That Pays for Itself
With uncertain employment opportunities and increasing student loan debt, the appeal of a four-year college degree isn't what it used to be. The average earnings for college graduates is $41,765, and their average student loan debt is $58,495.
After completing your apprenticeship at Carpenters Training Institute, your average earnings as a journeyworker will be up to $55,700 and you'll enter the workforce with $0 in student loan debt.
Journeyworkers who continue to develop their craft through additional training can earn over $77,355. You can also move into a leadership role where you'll earn $66,500+ as a foreman or $90,000+ as a superintendent.
Education costs for the 2017-2018 school year:
University of Minnesota students PAID $25,290
Hennepin Technical College students PAID $5,218
Carpenters Training Institute apprentices EARNED $30,675-$73,465 annually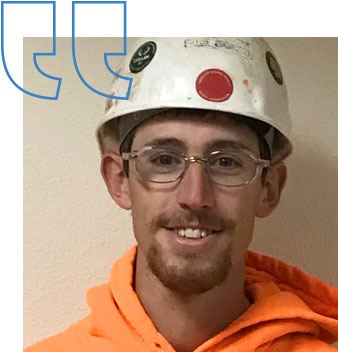 I started the apprenticeship because I wanted a career that I knew would support me for life…. I chose carpentry for the variety of work and I knew an apprenticeship was the best course I could take both financially and for overall success.
– Joshua Schraufnagel, 4th year carpenter apprentice